A CfNN Focus Area: Research in Restoring Limb Function aims to advance rehabilitation, and develop and investigate new technologies for individuals following upper limb amputation. Investigations on restoring limb function provide new hope to Veterans and other persons with amputation and mobility limitations, and include collaborations with clinicians and investigators across the United States toward deployment of new techniques, therapies, and devices.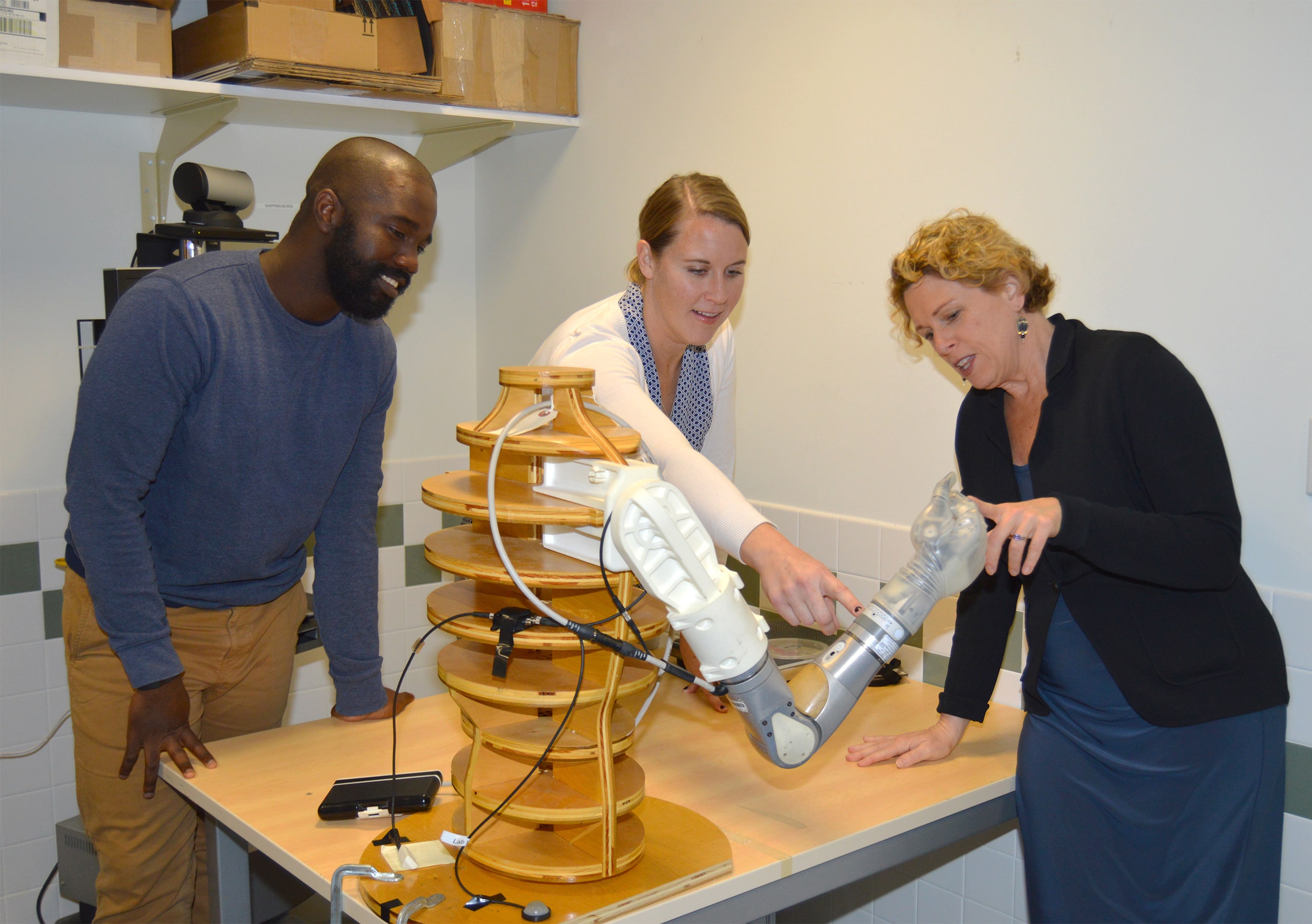 Some Restoring Limb Function Related Research Projects:
Design and Evaluation of Upper Limb Prosthetic Devices
Dr. Resnik has been evaluating new upper limb prosthetic technology for over a decade. She was Principal Investigator of the multi-site VA Study to Optimize the DEKA Arm (VA RR&D A6780I) and VA Home Study of an Advanced Upper Limb Prosthesis (VA RR&D A9226-R). Data from the Optimization study was used to support FDA approval of the device (now called the LUKE Arm). The overall objective of the home study was to examine the feasibility, acceptance and benefits of home use of an advanced upper limb prosthetic device as well as the logistical support requirements utilized during three months of home usage. Data from that study, including prescription and training recommendations, repairs data, and guidelines for best practices have been broadly disseminated to programmatic partners to facilitate the clinical implementation of the DEKA Arm, which received FDA approval in 2014. The home study renewal (VA RR&D A077-R) aimed to compare the outcomes of users of EMG pattern recognition (PR) to the outcomes of users without. Her studies of the DEKA Arm have also evaluated socket suspension methods and included kinematic analyses comparing the DEKA Arm to conventional control. Dr. Resnik participated in the VA-DoD LUKE Arm transition Workgroup, which paved the way for the device's clinical translation. The first two Veterans' received the LUKE Arm in 2017 https://www.darpa.mil/news-events/2017-06-30 and the VA-DoD now has a clinical protocol, largely based on research evidence and training protocols from this research.
Dr. Resnik collaborated on study design and analysis of data from the first home trials of a neural connected sensory prosthesis study (Tyler, DARPA N66001-15-C-4014). Currently, she is a Co-Investigator of a randomized clinical trial examining whether use of a sensory-enabled, high degree-of-freedom prosthesis with the iSens system, improves quality of life compared to use of a state-of-art prosthesis (Tyler, VA RR&D A3355-R). She also collaborated with researchers at North Carolina State to compare EMG-PR to conventional dual site EMG control of a 2 degree of freedom prosthesis. In collaboration with colleagues at Yale University, Resnik worked to develop a taxonomy for upper limb prosthesis grasps, geared towards improving device design.
National Study of Needs and Preferences of Veterans and Service Members with Upper Limb Amputation
Dr. Resnik is the Principal Investigator of a national study of Veterans and service members with upper limb amputations. This study is funded by the DoD with supplemental funds from VA RR&D. This study is a collaborative effort involving partners from the University of Massachusetts Medical School, four VA Medical Centers, and a DoD site. The primary aims of this work are to: describe patterns of prosthesis use; identify the impact of amputation and prosthesis use on function, activities and participation; identify unmet prosthetic needs; and compare the effectiveness of different prosthesis types. Findings will also be compared for male and female amputees. The study included a one year longitudinal follow-up survey to examine changes in satisfaction with care and prosthetic services, physical performance, self-reported quality of life and physical function to assess the implementation of new clinical guidelines. The study also included an in-person assessment to quantify physical function using a battery of performance-based tests. The study has completed baseline surveys of over 800 Veterans, conducted 585 one year follow-up surveys of these participants and completed 127 in-person assessments of Veterans and community members. Several papers have been published reporting on the baseline and longitudinal survey findings. The in-person data has been used to generate normative values for dexterity and activity performance by amputation level and prosthesis type.
A second DoD study, Comparative Effectiveness of Upper Limb Prostheses and Component Effects, will add approximately 200 persons to the in-person assessment sample from the study described above which will allow more robust comparisons of the effectiveness of upper limb prostheses and components. Recruitment and data collection for this study has been temporarily paused due to COVID-19. The following VA and DoD sites will be recruiting participants when the pause is lifted:

VA Puget Sound Health Care System (Seattle, WA)

James A. Haley Veterans' Hospital (Tampa, FL)

 U.S. Army Institute of Surgical Research Burn Center (San Antonio, TX)

Hunter Holmes McGuire VA Medical Center (Richmond, VA.)

Funding for these studies has come from the DoD (OPORP W81XWH-16-2-0065, W81XWH-19-1-0800) and the VA (VA RR&D A2707-I).
Outcome Measurement for Persons with Amputation
In a completed study, screening data was collected on over 120 upper limb amputees; enabling comparison of dexterity and activity performance by amputation level for conventional prosthesis users and providing critically needed data on the reliability and validity of commonly used measures. Screening and testing data enabled the team to advance the field of outcome assessment in upper limb amputation leading the development of several new outcome measures for upper limb amputation including the: Activities Measure for Upper Limb Amputees (AM-ULA), the  Brief Activities Measure for Upper Limb Amputees (BAM-ULA), and the Timed Based Measurement of Activity Performance (T-MAP)).
Dr. Resnik and her team have led several systematic reviews of measures of upper limb amputation, contributed to the development of evidence based clinical guidelines for the rehabilitation of persons with upper limb amputation, and helped guide the selection of outcome measures for a joint VA-DoD effort to develop a toolbox of measures for persons with limb trauma and amputation (BADER Consortium W81XWH-11-2-022) She was also investigator on an AHRQ evidence synthesis which focused in part on measures for lower limb amputation (AHRQ HHSA290201500002).
Her current work continues in this area under the VA RR&D Merit Review funded project Validation of patient reported outcomes for Female veterans with upper limb amputation (VA RR&D A2936-R). This study is a partnership with the University of Massachusetts Medical School. The overall objective of this project is to develop and validate Patient Reported Outcome Measures (PROMS) for persons with upper limb amputation. The study is important because existing measures have serious limitations and have not been validated in women. Study activities involve survey measure development, refinement and testing. 742 participants took part in phone-based surveys (153 women). Recruitment for this study has ended. 
Development, Evaluation and Deployment of Rehabilitation Outcomes Measures
Dr. Resnik is the developer of the Community Reintegration of Injured Service Members Scale (CRIS) and the CRIS-CAT – a computer adaptive test version of the measure. The CRIS-CAT is available here at Github.

These measures use the conceptual framework of "participation" as described by the WHO's International Classification of Functioning, Disability and Health. Dr. Resnik also served as chairperson of the VA RR&D's Community Reintegration Working Group. 
FA 3 Collaborators:
Ellie Balakhanlou, MD – Virginia Commonwealth University
Ethan Balk, MD, PhD – Providence VA Medical Center, Brown University, Providence, RI
David Borton, PhD – Providence VA Medical Center, Brown University, Providence, RI
Jill Cancio, OTD, OTR/L – U.S. Army Institute of Surgical Research Burn Center, San Antonio, TX
Melissa Clark, PhD – Brown University, Providence, RI
Aaron Dollar, PhD – Yale University, New Haven, CT
Emily Graczyk, PhD – Case Western Reserve University; Louis Stokes Cleveland VA
Jeffrey Heckman, DO – James A. Haley VA, Tampa, FL
M. Jason Highsmith, PhD, PT – University of South Florida, Tampa, FL; U.S. Dept. of Veterans Affairs, Washington, DC
Charles Levy, MD 
Samuel Phillips, PhD – James A. Haley VA, Tampa, FL
Pengsheng Ni, PhD – Boston University, Boston, MA
Dustin Tyler, PhD – Case Western Reserve University; Louis Stokes Cleveland VA
Joseph Webster, MD – Hunter Holmes McGuire VA, Richmond, VA
Oksana Witt, MD – Hunter Holmes McGuire VA, Richmond, VA